Billionaires, world leaders and investors are gathered in Davos, Switzerland, for the World Economic Forum's annual meeting to hobnob and discuss topics ranging from the global economy and sexual harassment, to the risks and opportunities of artificial intelligence. Not to mention hear a speech on Friday by President Donald Trump.
Here are the latest developments, updated throughout the day. (Time-stamps are local time in Davos.)
Brexit Has 'Very Positive' Effects for Europe (5:44 p.m.)
Europe is much stronger due to the U.K.'s Brexit vote, as the bloc is seen as common good for the future and there are "great opportunities" in the region, Publicis Chairman Maurice Levy said on a panel. There's an "alignment of the planets" in favor of Europe, he said.
U.K.'s Hammond Plots Modest Brexit (5:43 p.m.)
U.K. Chancellor of the Exchequer Philip Hammond has set out his vision for a Brexit deal that is only "very modestly" different from the terms of European Union membership. He called for an unprecedented and wide-ranging trade agreement with the bloc to mitigate the threat of "unnecessary economic, fiscal or financial stability risks" from Brexit.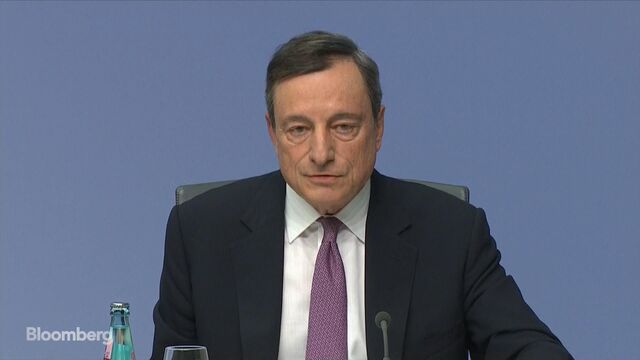 Draghi Strikes Back in Currency War of Words (4:10 p.m.)
European Central Bank President Mario Draghi attacked the U.S. Treasury Secretary's comments on the dollar, saying he isn't playing by the rules. Speaking in Frankfurt on Thursday, Draghi said the recent euro-dollar moves are partly down to Steven Mnuchin's intervention, saying: The exchange rate has moved "in part due to exogenous reasons that have to do with communication. But not by the ECB, but by someone else. This someone else's communication doesn't comply with the agreed terms of references."
Trump Says Palestinian Aid 'On the Table' (4:09 p.m.)
The U.S. gives Palestinians "hundreds of millions of dollars" and that won't keep coming "unless they sit down and negotiate peace," U.S. President Donald Trump said at a meeting with Israel's Prime Minister Benjamin Netanyahu. "That money is on the table" in peace talks, he said, adding that he aided talks by taking the issue of Jerusalem as Israel's capital "off the table."
Trump Says U.S. Ready to 'Fight' for U.K. (3:33 p.m.)
President Donald Trump said in a meeting today with British Prime Minister Theresa May that the two leaders have a great relationship, dismissing reports of clashes. "We love your country," Trump said while sitting next to May. "We have the same ideals and there's nothing that would happen to you that we wouldn't be there to fight for you." 
May said her talk with Trump was "great" and that the "special relationship" between the two countries continues.
U.S. 'Doing Very Well,' Trump Says (3:06 p.m.)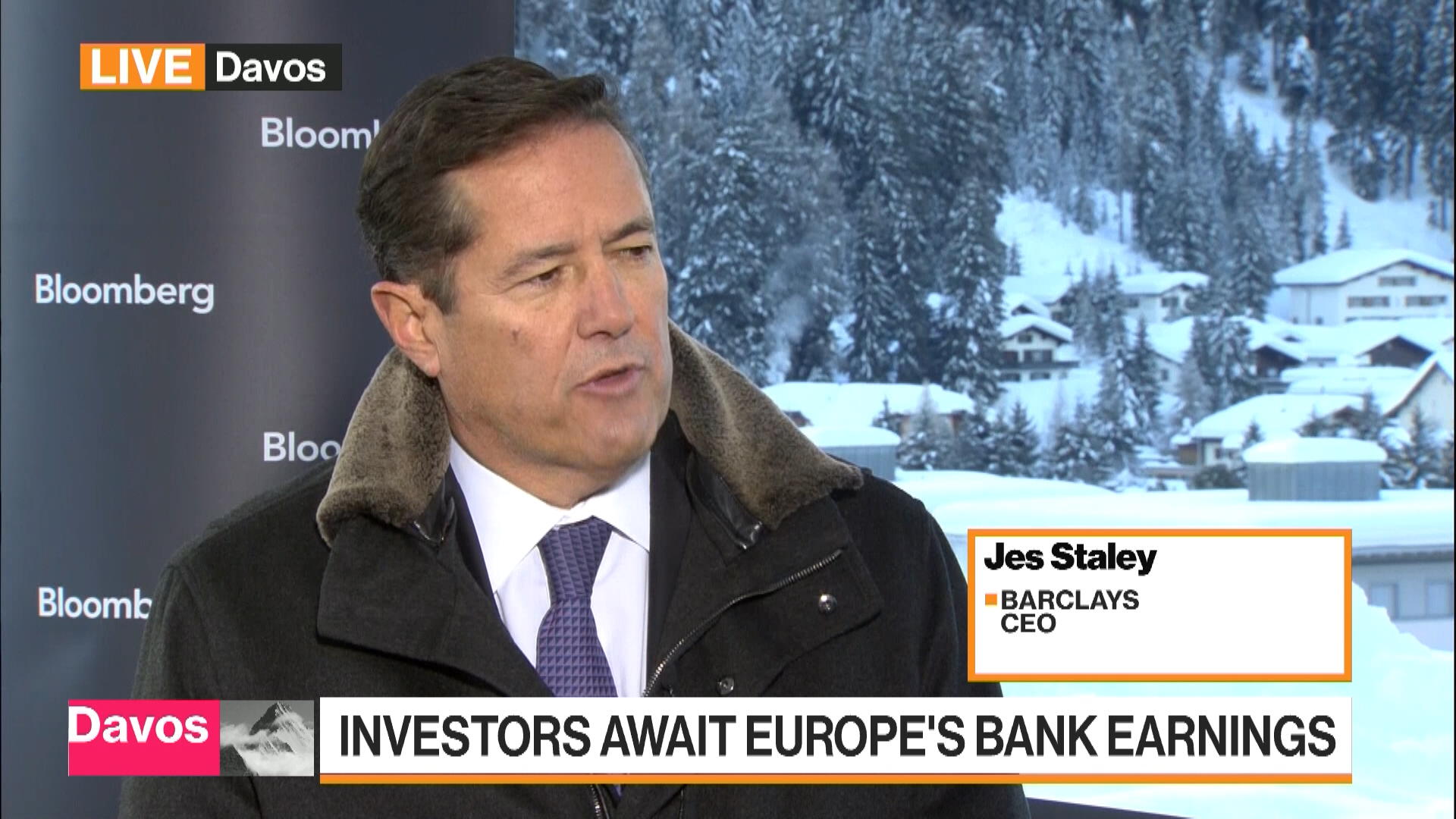 "The United States is doing very well," President Donald Trump tells reporters in Davos, adding he's "very excited to be here." The U.S. will "continue to do well and this will be a very exciting two days," he says entering meeting with U.K. Prime Minister Theresa May.
U.K. Wants Unique EU Trade Deal (2:46 p.m.)
"An off the shelf deal, whether Canada or Norway, is not the right option," U.K. Chancellor of the Exchequer Philip Hammond tells British business executives at CBI lunch. "We should be confident of reaching something much more ambitious than any free trade agreement that has ever been achieved."
Dutch Focus on China Amid U.S. Shakeup (2:35 p.m.)
Dutch Prime Minister Mark Rutte said his country will leverage its close trading partnership with China while taking a "step-by-step" approach to U.S. President Donald Trump's efforts to reshape the international order. "We should carefully look into what he's doing and if necessary of course we have to take steps but not all of a sudden."
May Opens Door to Uber (2:34 p.m.)
Uber Technologies Inc., which has gotten things wrong but should not be shut down, U.K. Prime Minister Theresa May says in a speech. May said U.K. employment law should be updated to ensure that gig economy workers are not exploited, while at the same time allowing flexible work arrangements. While May bashed social media companies for not doing enough to fight terrorist propaganda, hate speech, child pornography and cyber-bullying, she rejected the idea of forcing them to comply with the same laws that regulate publishers.
Italy Worried About U.S Trade Moves (2:34 p.m.)
Wednesday at Davos: Five Things You Need to Know
U.S. trade restrictions "would be more damaging than having a weak dollar from the point of view of Europe," Italian Finance Minister Pier Carlo Padoan said. "I am concerned about the state of mind that might develop in the United States towards a sense of doing things 'on our own' rather than with a multilateral approach."
Barclays Presses May to Prioritize Financial Rules (2:30 p.m.)
Barclays Plc Chief Executive Officer Jes Staley told British Prime Minister Theresa May to be prepared to sacrifice access to the single European market after Brexit if it means gaining control of its own financial rules, people with knowledge of the discussions said.
Goldman Sachs Says Tax Reform Will Boost Returns (2:22 p.m.)
Tax overhaul has brought U.S. more in line with the rest of the world and will help banks improve returns, Gold Sachs Chief Executive Officer Lloyd Blankfein said in a Bloomberg Television interview. He said a 15% return on equity Is 'highly possible,' but ruled out a returns of 30 percent.
WTO Chief Warns Against Trade-War Complacency (2:09 p.m.)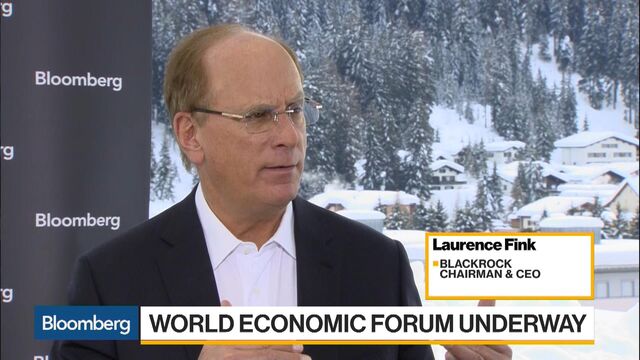 Roberto Azevedo, director general of the World Trade Organization, told reporters in Davos that there are no immediate signs that the world is about to descend into a trade war, but policy makers can't afford to be complacent. He also said that the actions of the Trump administration are not consistent with those of a country that plans to turn its back on the WTO. 
BlackRock Warns Against Sitting on Cash (2:02 p.m.)
Larry Fink, chief executive officer of BlackRock Inc., is urging investors around the world to stop keeping money in cash as stock markets reach new highs. There's too much savings on the sidelines of financial markets in countries from the U.S. to China despite the stock market rally, Fink said in a Bloomberg Television interview.
No U-Turn on Brexit, Hammond Says (1:55 p.m.)
On a recent trip to Berlin, "I was surprised to find myself still getting asked whether Britain's decision to leave the EU was reversible," U.K. Chancellor of the Exchequer Philip Hammond at CBI Lunch. "So let me be clear, Britain will be leaving the European Union on the 29th of March 2019. This decision is not going to be reversed. That is statement of political reality. The challenge is not to debate the merits or otherwise of that decision."
Merkel Wants Government by Easter (12:35 p.m.)
Chancellor Angela Merkel's Christian Democratic-led bloc aims to form a coalition government with the Social Democrats by Easter on April 1, Defense Minister Ursula von der Leyen said in an interview with Bloomberg Television.
IMF Wary of Cryptocurrencies (12:09 p.m.)
The International Monetary Fund is aware there will be innovations but believes crypto-anonimity and its use to conceal illicit trades such as terror financing and money laundering is "unacceptable," Managing Director Christine Lagarde said during a discussion panel.
WTO Warns on Trade War 'Domino Effect' (11:48 a.m.)
World Trade Organization Director General Roberto Azevedo warned against a new trade war and called on nations to respect existing rules. "Because, if you do that you know you start this but the others will respond and you get into a domino effect that is very difficult to control and reverse," Azevedo said in an interview with Bloomberg Television.
May 'Appalled' by Presidents Club Report (11:37 a.m.)
U.K. Prime Minister Theresa May condemned the attitudes of men at the top of British business after revelations of a London charity dinner where hostesses were harassed and groped. "I was frankly appalled when I read the report," May said in a television interview with Bloomberg's Editor in Chief John Micklethwait.
Bitcoin Needs 'Very Serious' Monitoring (11:35 a.m.)
The risk that cryptocurrencies can be used by criminals means Britain and other governments should be looking at them "very seriously," according to U.K. Prime Minister May. Technology companies must focus on the issue of social responsibility, especially in the areas of terrorism and child pornography, May said.
Trump Wants 3% Growth (11:32 a.m.)
U.S. President Trump is aiming for gross domestic product growth of 3 percent or higher, according to Treasury Secretary Steven Mnuchin. "Our focus is on economic growth and we couldn't be happier with the response of American companies, of international companies," Mnuchin said during a panel discussion.
Lagarde Urges 'Fair, Clear' Trade Rules (11:19 a.m.)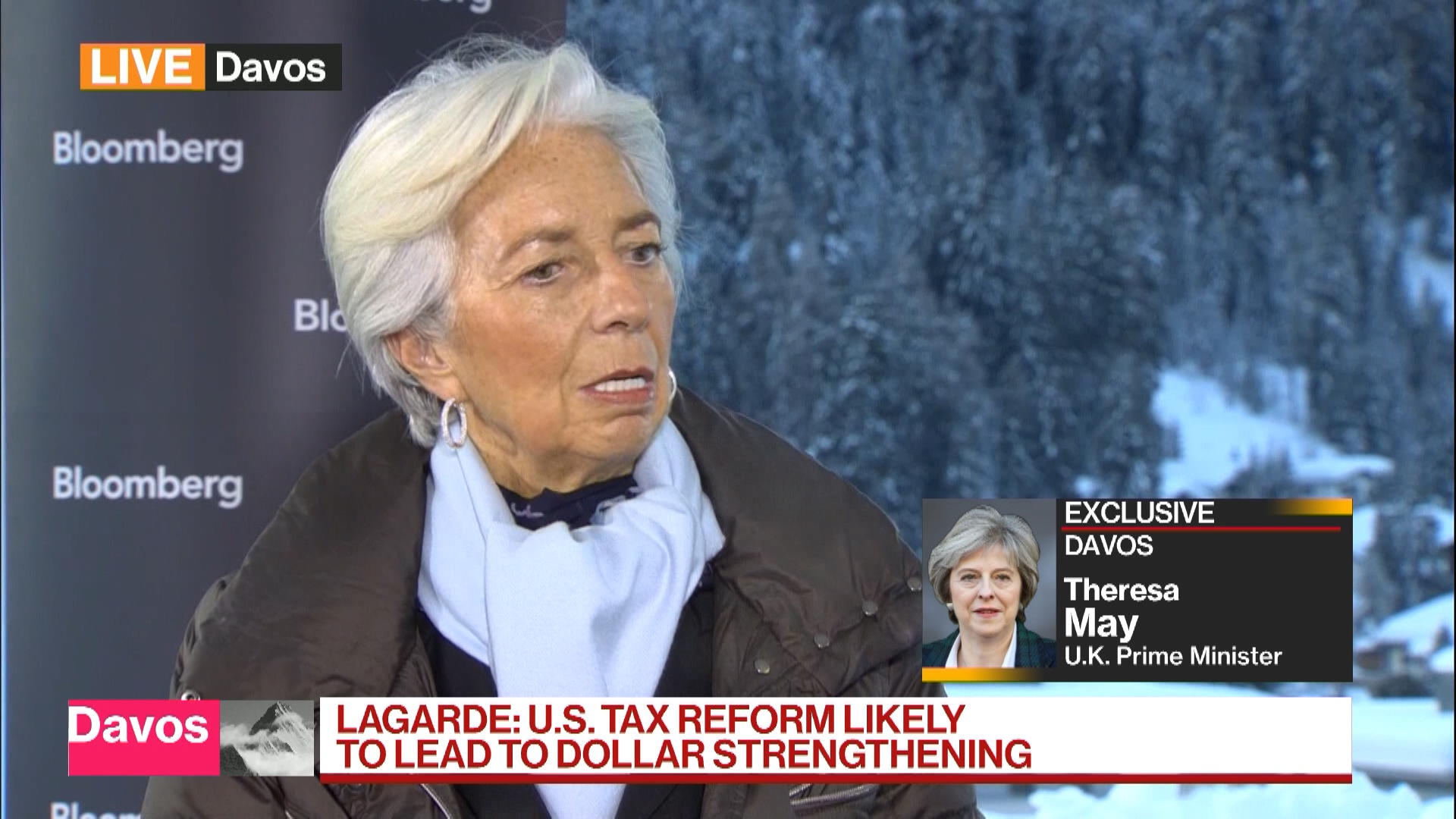 The IMF doesn't support measures that could restrict global economic growth, Managing Director Lagarde said. Trade rules have to be fair and clear, she said during a panel discussion.
Weaker Dollar Brings Benefits, Costs (11:12 a.m.)
"There are benefits of where the dollar is and there are costs of where the dollar is," Mnuchin said during a panel discussion. "It's not a shift in my position on the dollar at all. It is perhaps slightly different from previous Treasury secretaries. We do support free and floating currencies reflective of the market."
Irish PM Sees 'Norway Plus' Brexit Deal (10:55 a.m.)
The U.K. may end up in a 'Norway plus' style relationship with the European Union after Brexit, according to Irish Prime Minister Leo Varadkar. There are "different perspectives" within the bloc on a trade future deal with Britain, Varadkar said in an interview with Bloomberg Television.
Mnuchin Mulling China Trip (10:37 a.m.)
Mnuchin said he's considering a trip to Beijing this year to discuss sanctions on North Korea and how to shrink America's trade deficit with China. "I discussed a possible trip of mine to China later this year to review with them the sanctions as well as various different opportunities over there," Mnuchin told reporters. "We also talked very candidly about the trade issue."
Strong Euro Brings Benefits (10:30 a.m.)
A stronger euro has benefits for the single currency area, according to Irish PM Varadkar. "Bear in mind it keeps inflation down and interest rates down," Varadkar said. He urged the U.S. not to restrict free trade, which he said brings advantages for all nations.
U.S. Warns Turkey on Syria (9:41 a.m.)
Tom Bossert, the U.S. homeland security adviser, warned of "grave consequences" from any miscalculation as Turkey's military pushes deeper into Syria to confront U.S.-backed Kurdish militant groups. Turkey should be mindful of conflict with proxy forces, especially if there are possible U.S. advisers in the area, Bossert told reporters.
Dollar Move May Placate U.S. (9:22 a.m.)
A weaker dollar may help alleviate U.S. concerns about the "fairness" of global trade, Hammond said. "Hopefully, the depreciation of the U.S. dollar and the opportunities that creates will help to create a sense of a more level playing field without having to reach for tariffs," he added.
Hammond Happy With Pound (9:16 a.m.)
"We're very happy with where the currency is at the moment," Hammond said, adding that a stronger pound will tame inflation and help real wages.
Wednesday at Davos: Five Things You Need to Know
Mnuchin Defends Dollar Comments (8:54 a.m.)
Mnuchin defended his comments on Wednesday when he said a weak dollar is good for U.S. trade. "I thought my comment on the dollar was actually quite clear yesterday," Mnuchin said. "I thought it was balanced and consistent with what I said before."
No Time For Currency War, Lagarde Says (8:10 a.m.)
The IMF supports floating currencies and market-determined rates, according to Managing Director Lagarde. "It's not time to have any kind of currency war," Lagarde said in an interview with Bloomberg Television. Lagarde also urged Germany to use its surplus to increase government spending and said mining cryptocurrencies is far too energy intensive.
Waiting on Trump (7:05 a.m.)
President Trump lands in Davos on Thursday, planning to tell the global elite that his "America First" agenda is good for globalization and that the growing U.S. economy and booming stock market show they were wrong to doubt him. European leaders are nevertheless still banging the drum for free trade.
While it's Trump's first time at the World Economic Forum's gathering he knows plenty of people here as our DataViz shows. Scientists and academics visiting the Alpine town are also concerned about the outlook.
Here's What Happened Wednesday:
Read more: http://www.bloomberg.com/news/articles/2018-01-25/trump-set-to-land-with-america-first-message-davos-update