Most stocks in Asia rose after earnings reports across a range of sectors helped send U.S. gauges to new all-time highs. Treasury yields were steady after rising on higher chances for a U.S. interest-rate increase this year.
Equity benchmarks advanced in Tokyo, Sydney and Hong Kong. The dollar was little changed against major peers as the Australian dollar jumped after unemployment unexpectedly dropped last month.
Attention turns to data on Chinese growth, factory output and retail sales after President Xi Jinping pushed quality over quantity for economic development in his speech opening the Communist Party Congress on Wednesday. Spanish assets remain in focus with a Thursday deadline looming for Catalonia's president to renounce his independence claims or have Madrid take control.
A solid U.S. earnings season is coinciding with higher chances of the Federal Reserve lifting borrowing costs by the end of this year. More than 80 percent of the 52 members of the S&P 500 Index that have already reported earnings for the most recent quarter beat analysts' forecasts. Fed funds futures indicate a roughly 80 percent chance that U.S. policy makers will raise rates at their December meeting, up from 72 percent Friday. By then, President Donald Trump may have announced his choice for the next Fed chair, a decision that's expected in the next two weeks.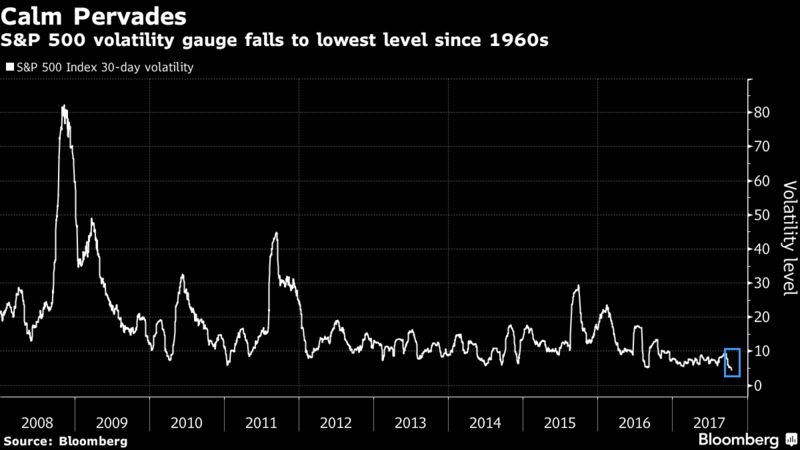 In a speech that ran for more than three hours on Wednesday, Xi said China would continue opening its doors to foreign businesses, defend against systemic risks, deepen reforms of state-run enterprises and strengthen regulation of the financial sector, as well as better coordinate fiscal and monetary policy.
China's third-quarter gross domestic product report Thursday will determine whether central bank Governor Zhou Xiaochuan's optimism on the economy is warranted. Estimates show expansion slowing to 6.8 percent, in contrast to Zhou's comments that momentum from the first half's 6.9 percent may continue. Factory output and retail sales probably picked up in September.
Terminal subscribers can read more in our Markets Live blog.
Here are details of some key events:
Australia's employment rose 19,800 in September from August, above the 15,000 positions economists had estimated were added last month. The jobless rate fell to 5.5 percent.
South Korea left its key interest rate unchanged at 1.25 percent, as expected. Next, Bank Indonesia will probably leave rates on hold, ignoring President Joko Widodo's view that there's still room to ease after eight cuts since the start of 2016.
Here are the main moves in markets:
Stocks
Japan's Topix index rose 0.3 percent as of 10:31 a.m. in Tokyo. Australia's S&P/ASX 200 Index added 0.2 percent, while South Korea's Kospi index was little changed.
Hong Kong's Hang Seng Index rose 0.2 percent and the Shanghai Composite Index was slightly lower.
S&P 500 Index futures were flat. The underlying gauge rose 0.1 percent on Wednesday, when the Dow Jones Industrial Average climbed 0.7 percent — the biggest gain in five weeks. IBM surged the most since 2009 after forecasting what could be the first annual sales gain in more than five years.

Currencies
The Bloomberg Dollar Spot Index was little changed.  
The yen was steady at 112.92 per dollar after falling 0.7 percent on Wednesday.
The Australian dollar was at 78.58 U.S. cents. It reached as high as 78.72 after the unemployment rate fell in September and the number of jobs added beat estimates.
The euro increased 0.2 percent to $1.1805.
Bitcoin fell as much as 8.4 percent on Wednesday as traders balked at news that the U.S. Commodity Futures Trading Commission may initiate oversight of initial coin offerings. It ended the session down 1.3 percent.
Bonds
The yield on 10-year Treasuries held at 2.34 percent after increasing five basis points in the previous session.
Australia's 10-year government bond yield added four basis points to 2.76 percent.
Commodities
West Texas Intermediate is trading above $52 a barrel, rising for a fifth day.
Gold was flat at $1,281.01 an ounce.
Read more: http://www.bloomberg.com/news/articles/2017-10-18/profits-buoy-equities-as-bonds-drop-dollar-swings-markets-wrap