In 2018, it pays to be on Jack Dorsey's side.
Square Inc. and Twitter Inc., which both count the tech titan as chief executive officer, are on the brink of boasting 100 percent gains this year. The firms are now worth more than $62 billion combined, surpassing the market value of Tesla Inc.
In the past, investors have expressed skepticism about Dorsey's ability to effectively run both companies at the same time. It seems some shareholders have put those concerns on the backburner.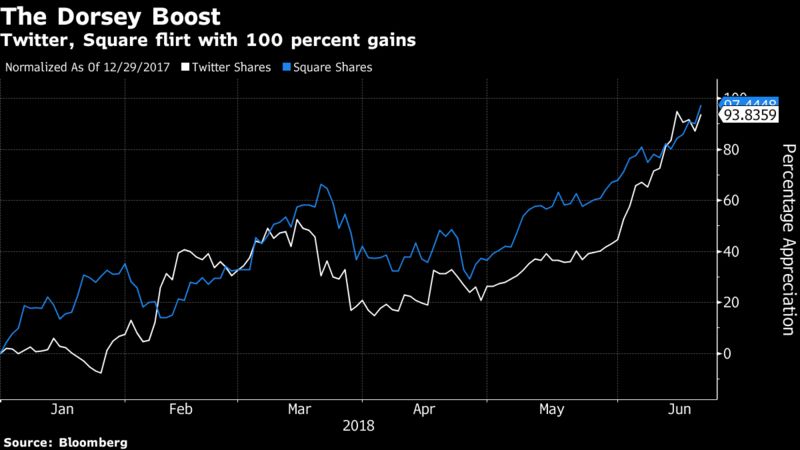 Square rose as much as 4.6 percent to $68.97 on Wednesday while Twitter gained more than 4 percent to $46.92. The stocks are among the top four performers this year in the Russell 1000 Index, which has increased 4 percent.
Square shareholders have applauded the firm's recent decision to acquire website-builder Weebly for $365 million, as well as its foray into Bitcoin buying and selling. The shares hit an all-time high Monday after the company received a virtual-currency license in New York, and climbed to another record on Wednesday.
Investors have also been optimistic about Twitter's nascent turnaround. The company's push to add more live video and personalized content appears to be starting to pay off, boosting revenue and profit by luring users and advertisers. Dorsey has been positioning the platform as a place to discover "what's happening now," trying to use artificial intelligence to curate content for people based on their interests.
Analysts covering both companies have expressed increasing enthusiasm in recent months. Evercore ISI's Rayna Kumar on Wednesday raised Square's price target to $73, the highest among those covering the stock, just two days after KeyBanc said it saw shares hitting $70. Last week, Twitter climbed after JPMorgan's Doug Anmuth boosted his price target to $50, which matched the highest on Wall Street.
Read more: https://www.bloomberg.com/news/articles/2018-06-20/dorsey-s-twitter-square-both-on-verge-of-doubling-this-year