Asian shares dipped, with technology stocks leading declines after some disappointment with U.S. corporate earnings. Rising pressure on bond yields round the world stirred the Bank of Japan into action to keep rates from getting out of whack with policy targets.
The MSCI Asia Pacific Index dropped, set for the worst weekly performance since September 2016 after Google parent Alphabet Inc. missed earnings estimates and Apple Inc. forecast lower-than-expected revenue. Futures on the U.S. Nasdaq 100 climbed, though, as investors turned more optimistic on sales of Apple's iPhone X model, and the company's stock gained in after-hours trading.
Even Japan hasn't been immune to the sell-off in global bonds that's sent 10-year Treasury yields to the highest in four years. After 10-year Japanese government bond yields threatened to breach 0.1 percent — versus a policy target of around zero — the BOJ announced it's prepared to buy an unlimited amount of five-to-10 year notes at a fixed rate. Japanese yields retreated, and the yen briefly dropped.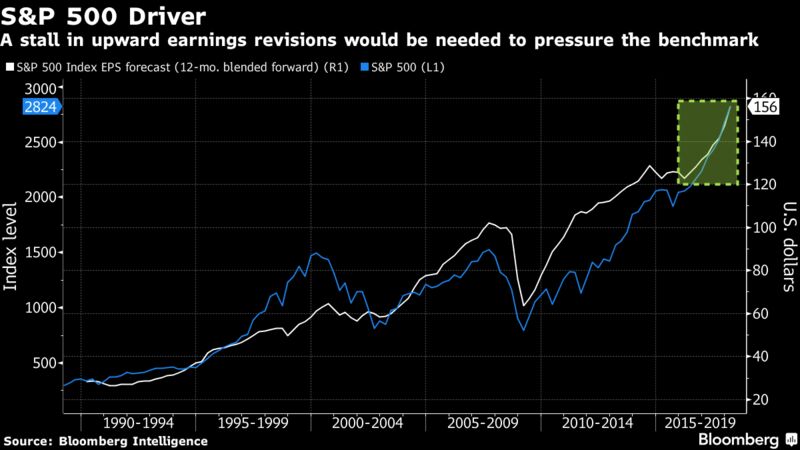 Equities are being tested by the surge in bond yields. Some fund managers have said 3 percent U.S. 10-year rates would signal a bond bear market, and the level is seen by many stock-watchers as a potential trigger for a correction in equities.
"It's going to depend on the pace of the move," Geoff Lewis, Hong Kong-based senior strategist for Asia at Manulife Asset Management, said on Bloomberg Television. "If we see a sharp move up that would be a negative shock for the equity markets. With such low volatility — complacency perhaps — its possible that that could be quite a sharp correction."
Next up for markets to focus on is the U.S. employment report, where traders will be paying particular attention to the gauge of wages for any signs of a pick-up in labor costs that could push up inflation and expectations for Federal Reserve monetary tightening.
Elsewhere, West Texas Intermediate oil traded near its highest level since 2015 as forecasters paint a rosier picture for supply and demand. Bitcoin continues to slide after a miserable January, falling below $9,000.
Terminal users can read more in our markets blog.
These are the main moves in markets:
Stocks
The MSCI Asia Pacific Index fell 0.7 percent as of 10:43 a.m. Tokyo time.
Topix index fell 1.1 percent.
Kospi index fell 1.4 percent.
Australia's S&P/ASX 200 Index rose 0.1 percent.
Futures on the S&P 500 Index fell less than 0.05 percent.
Futures on the Nasdaq 100 were up 0.3 percent.
Currencies
The Bloomberg Dollar Spot Index headed for an eighth straight weekly decline.
The Japanese yen was flat at 109.39 per dollar.
The euro fell 0.1 percent to $1.2497.
Bonds
The yield on 10-year Treasuries was at 2.79 percent, up about 13 basis points this week.
Japan's 10-year yield fell almost one basis point to 0.092 percent.
Commodities
West Texas Intermediate crude rose 0.4 percent to $66.06 a barrel.
Gold was flat at $1348.53 an ounce.
LME copper was little changed at $7,117 per metric ton.
Read more: http://www.bloomberg.com/news/articles/2018-02-01/asia-stocks-to-slide-as-tech-stumbles-bonds-drop-markets-wrap