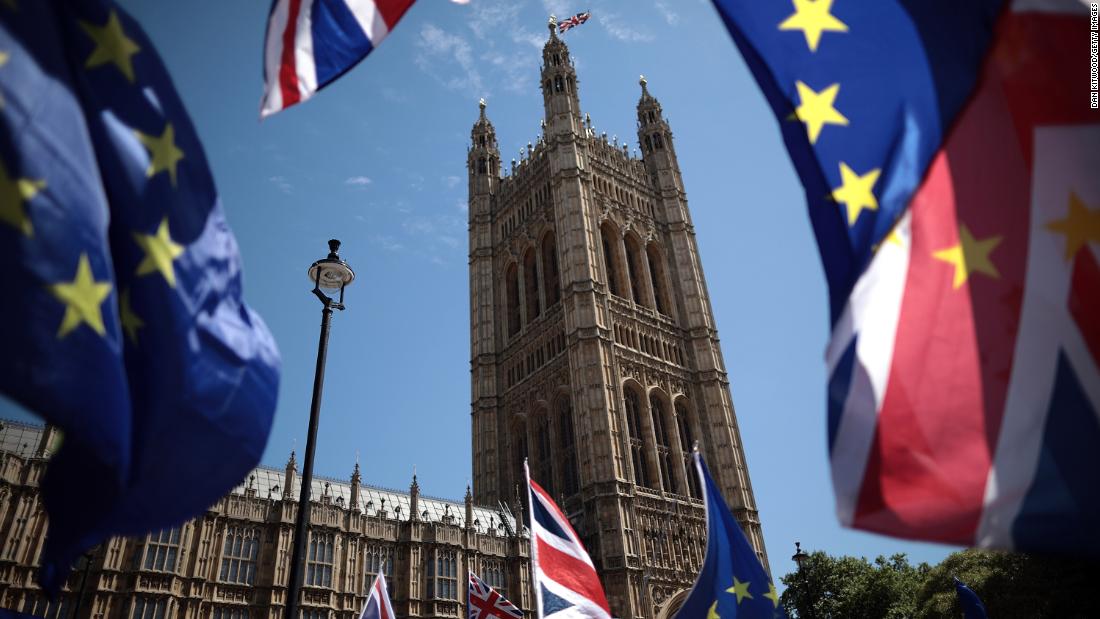 New York (CNN Business)1. Bracing for Brexit: The global growth fears that have rocked the US stock market will only deepen if the United Kingdom crashes out of the European Union.
The timing would be terrible. Germany and
Japan
, the No. 3 and 4 economies, are
already contracting
. And China is grappling with a slowdown. All of this will act as a brake on the United States, which is growing steadily but is likely to decelerate in 2019 regardless.
The pitfalls of Brexit came back into sharp focus last week after UK Prime Minister Theresa May suffered the resignation of key government ministers opposing her
bid to reach a divorce deal with the EU.
The risk that parliament fails to agree to the Brexit terms sent the pound tumbling 2% on Thursday. UK banks fell sharply. Royal Bank of Scotland's (
RBS
) US-listed shares lost 14% last week, while Barclays (
BCS
) shed 8%.
"Rejection of the deal would increase the odds of a no-deal Brexit significantly and would be strongly negative for markets," Bill Witherell, chief global economist and portfolio manager at Cumberland Advisors, wrote to clients.
That's the last thing Wall Street needs. A bout of volatility has knocked the S&P 500 more than 7% lower since hitting a record high on September 21.
Another worry: the
US dollar has continued to strengthen
. The greenback is up about 5% this year against a basket of currencies. The strong dollar makes American goods sold overseas more expensive. And it hurts multinational companies when they convert foreign revenue.
A chaotic Brexit threatens to make the dollar even stronger, against not just the pound but the euro too.
"The Eurozone economy is simply not in good enough shape to shrug it off," Societe Generale strategist Kit Juckes wrote to clients.
None of this means a messy Brexit will happen and infect the US stock market. There is still a good chance that the UK will reach a resolution that eases the economic fallout.
US investors are certainly hoping so. Their worry list is already getting full.
2. Black Friday: The official kickoff to the holiday shopping season begins this week.
Buoyed by low unemployment, a strong economy and high consumer confidence, the National Retail Federation forecasts an
uptick in consumer spending
. The organization says shoppers will spend 4% more this holiday season, from $967 last year to $1,007 this year. Last year, 174 million people went shopping in-store or online between Black Friday and Cyber Monday.
"Retailers expect strong demand this year, and are prepared with a wide array of merchandise while offering strong deals and promotions during the busiest and most competitive shopping season of the year," NRF President and CEO Matthew Shay said.
3. Retail earnings:
More retailers are reporting earnings this week, including Urban Outfitters (
URBN
), Best Buy (
BBY
), Kohl's (
KSS
), Gap (
GPS
), TJ Maxx owner TJX (
TJX
) and Target (
TGT
).
Another part of the company's problem is its lingerie retailer, Victoria's Secret. Younger customers have deemed it uncool and switched allegiance to more inexpensive bra brands. Last week, unconfirmed reports indicated that CEOJan Singer has resigned
.
The announcement of Singer's departure
might be shared
on Monday.
4. Soup shocker:
Investors will be eagerly awaiting Tuesday's earnings report amid a fierce proxy fight Campbell Soup (
CPB
) for control of the board.
Activist investor Daniel Loeb wants to replace five members of the 12-person board. Campbell's management says it knows the company best and can put it back on the right track. The
struggling 149-year-old company
has faced a slew of problems including poor sales, an ill-fated acquisition of Bolthouse and the abrupt departure of its CEO this year.
If Campbell has a strong quarter, management may use the good results to bolster its case. But if earnings disappoint, Loeb will be ready to pounce.
5. Coming this week:
Tuesday
— BJ's Wholesale Club (
BJ
), Best Buy (
BBY
), Barnes and Nobels (
BKS
), Campbell Soup (
CPB
), Target (
TGT
), TJX (
TJX
) and Gap (
GPS
) earnings
Wednesday
— Deere & Co. (
DE
) earnings
Thursday — US markets closed for Thanksgiving
Friday — Black Friday; US markets close early
Read more: https://www.cnn.com/2018/11/18/investing/stocks-week-ahead-brexit/index.html